About Dr. Michael Thomson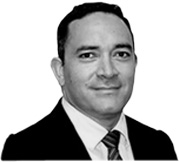 Dr. Thomson is a certified Specialist in Plastic and Reconstructive Surgery. He is Australasian trained and a Fellow of the Royal Australasian College of Surgeons.
Patient care and satisfaction are important to Dr. Thomson who will take the time to guide you through your journey; from the simplest of skin blemishes to the most complex of reconstructive problems. Dr. Thomson achieves the balance between form and function, paying particular attention to obtain a more natural result.
Dr. Thomson is able to combine his extensive expertise with the latest techniques and provide an exemplary standard in a broad range of Cosmetic, Plastic and Reconstructive Surgeries.
He is Director of Cosmetic Plastic Reconstructive Surgery in private practice and a Consultant Plastic Surgeon at Launceston General Hospital.
His academic responsibilities include Senior Clinical Lecturer for the University of Tasmania where he is currently involved in a number of research projects.
He is an International Member of the American Association of Plastic Surgeons, an active member of the New Zealand Association of Plastic Surgeons, the Australian and New Zealand Burns Association, and Pasifika Medical Associations.